Here is more on B2
ARC Sun City West AZ.
Go back to your grade school days were you ever asked "How did you spend your summer vacation?" Well here is a "Winter Twist" on that phrase. Since our move of a winter address I became part of ARC or the Auto Restoration Club of Sun City West AZ. The club is one of the various activities in the community, founded in 2011 it now has over 550 members. Early on the club vision was to have a multi-use facility for the members use. Members started raising funds for the building and in Dec. of 2014 a ground breaking ceremony was held. I became a member just as the keys to the "bare building" were turned over to the club. All the interior work has been done by club members. And a open house was held on Jan 27 2016 present at that event were the following guest speakers. Wade Kawasaki President of Coker Tire, David Madeira CEO of America's Car Museum in Tacoma WA., Diane Fitzgerald of Hagerty's Education Program and Wayne Carini star of Chasing Classic Cars . The event was attended by aprox 1,200 people and there were a great number of Antique, Classic, Street Rods and Muscle Cars on display. Here is some more on the ARC building.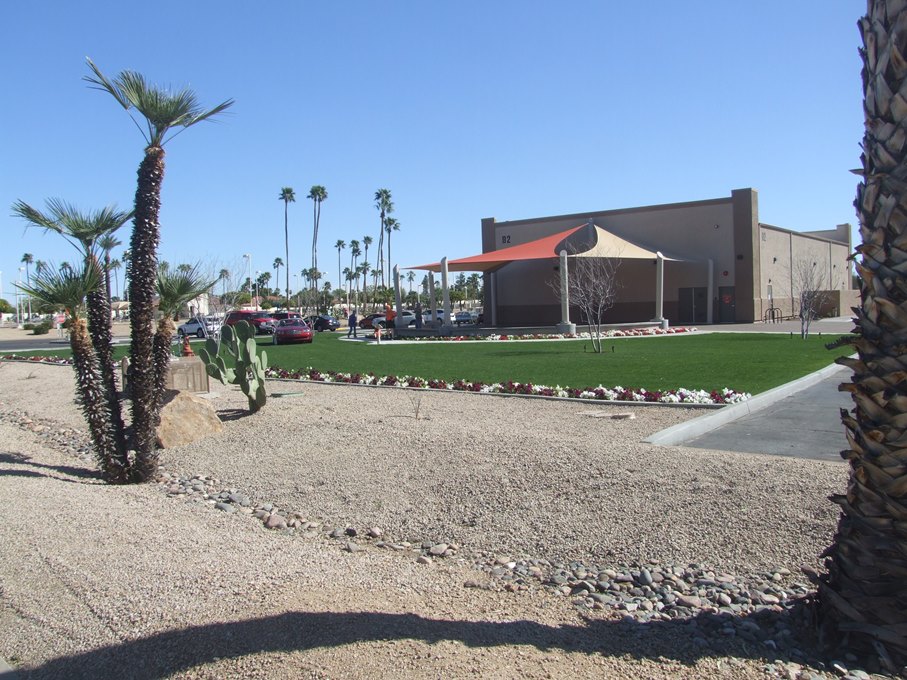 Here the front of the building with the covered courtyard future plans include a classroom area and a showroom more on this latter.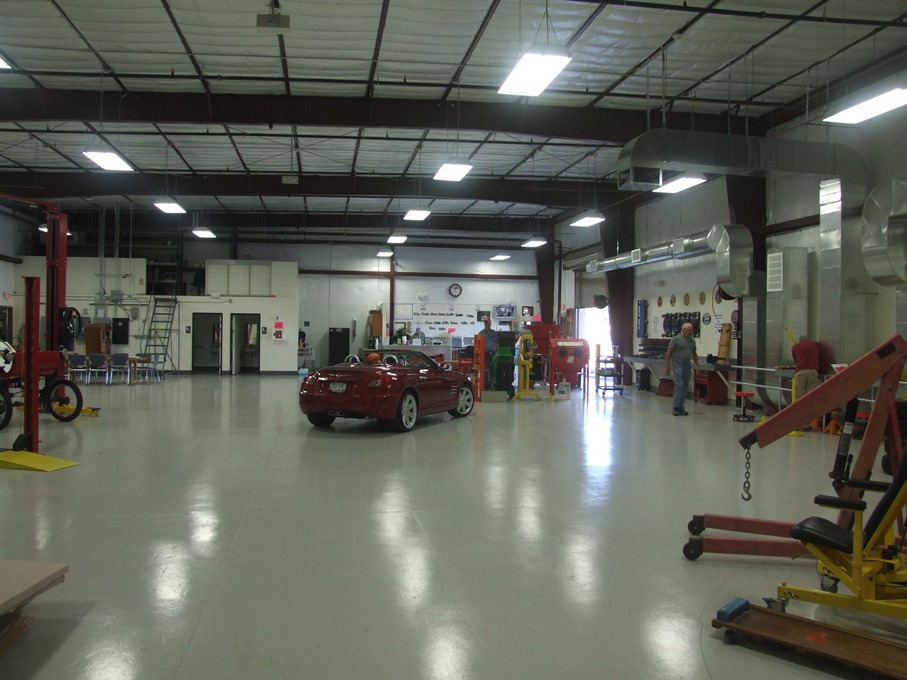 Looking to the front of the building on the left are the restrooms then a kitchen area and then the check-in area were members sign in and tools are loaned out if they don't have a particular tool. Members are all required to attend a basic safety class before allowed to work on cars. Also certain types of equipment in the shop they will be required to complete a "safe operation" course before they are allowed to use them.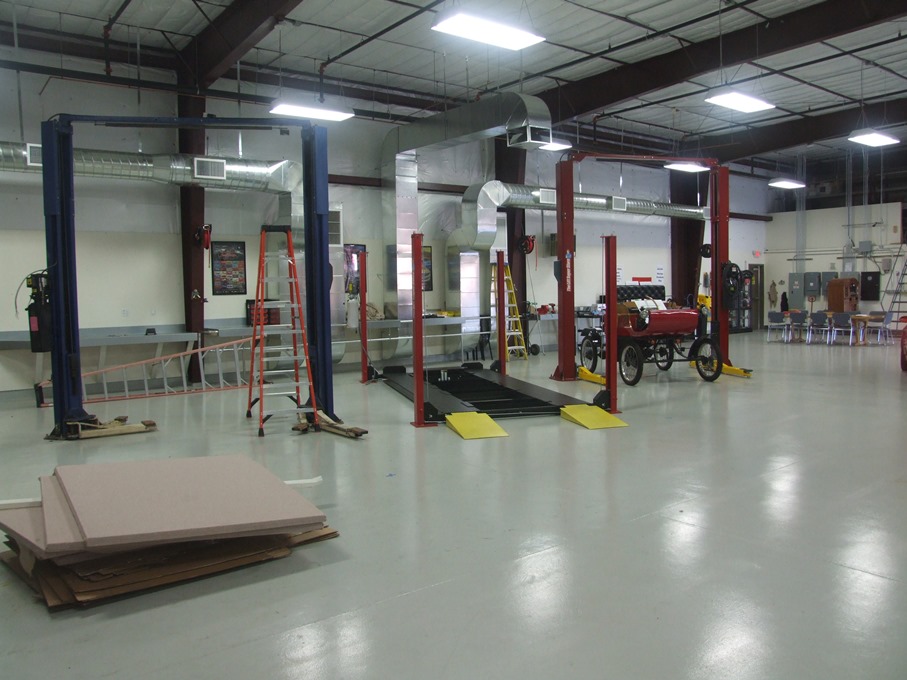 Here are 3 lifts installed for members use 2 are stationary "2-post type" the other is a "4 -post type" that can be moved to different shop bays. In the far right bay you see the clubs " 1901 Oldsmobile" reproduction built by club members. The club also has a Model A Ford "Speeder" which the members have used in "The Great Race" in 2014 and they finished 4th in the rookie class of 39 cars.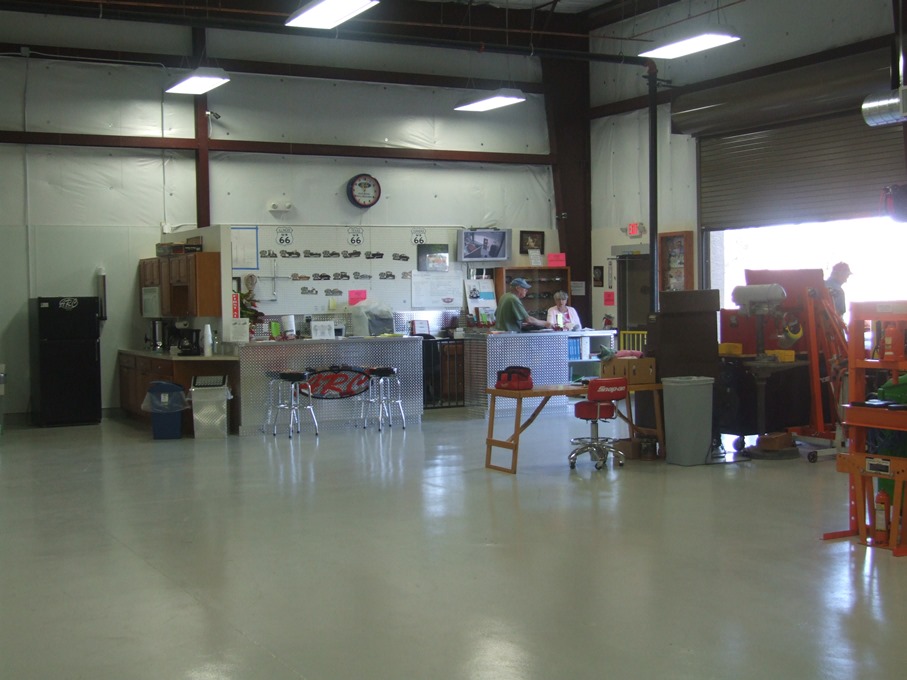 A close-up of the Kitchen and "Tool Crib" area all the cabinets and counters were built and installed by the members.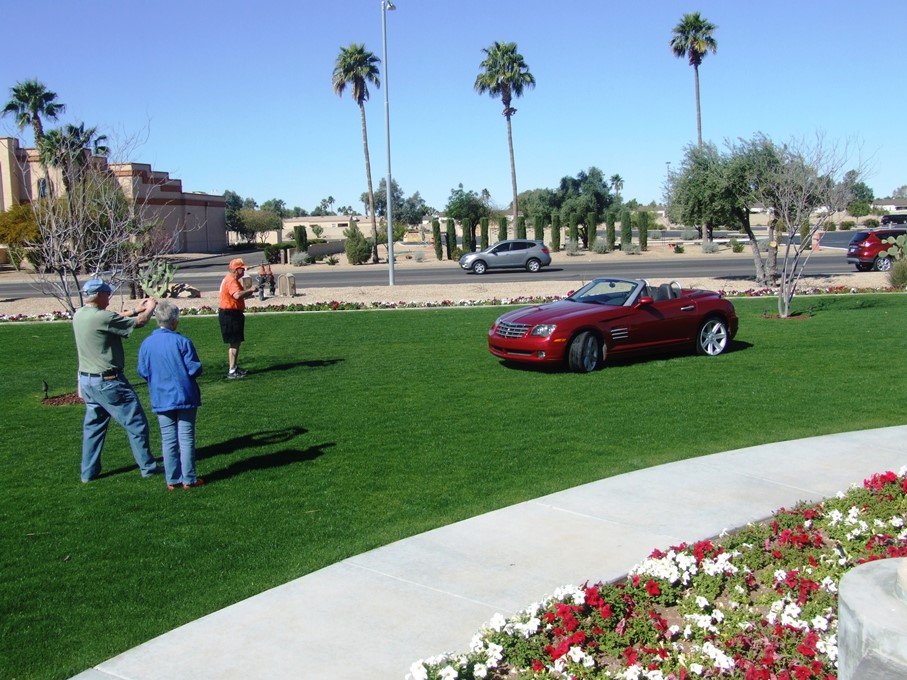 The club holds a car show each year and does a car raffle as a fund raising project. The club was donated a 1994 40th Anniversary edition Corvette and it was raffled off this Jan at the car show. Here members are taking promotion pictures of next years raffle prize a 2005 Chrysler Crossfire which was also donated to the club to raffle off.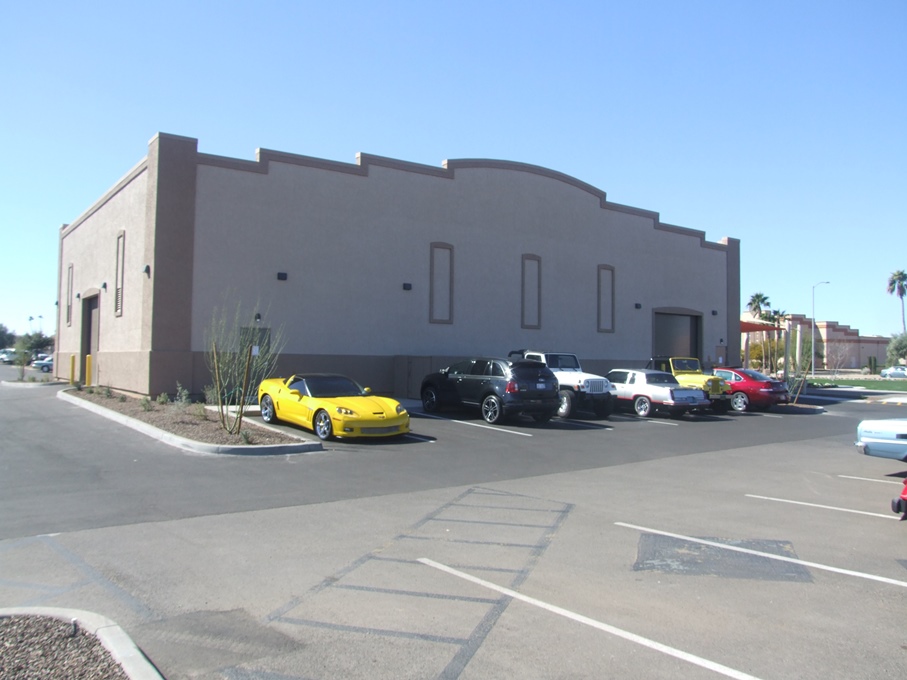 Shot of the north side of the building, might even see a car with "WISC PLATES" here.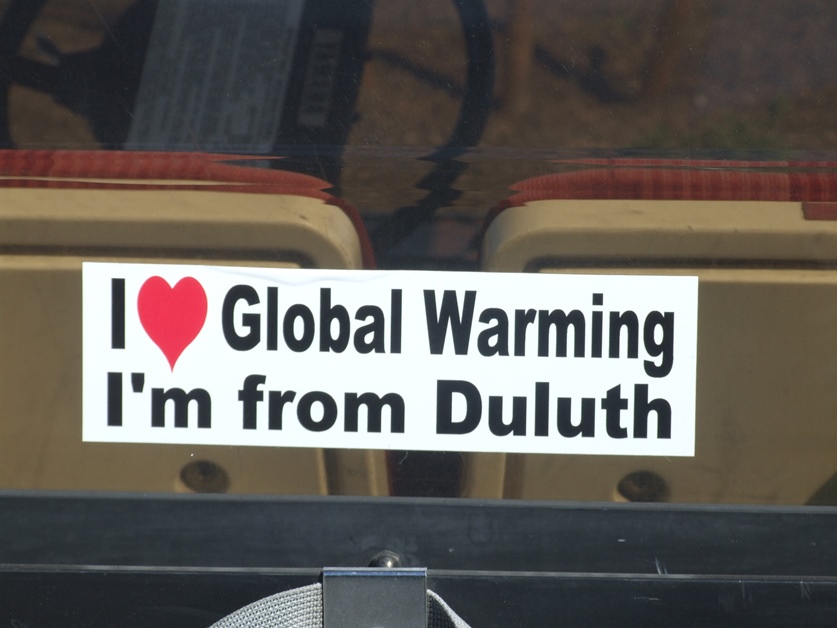 Found on the back of a fellow "Snowbird's" golf cart in the parking area of the ARC building. Just one of those things you just had to take a photo of!!!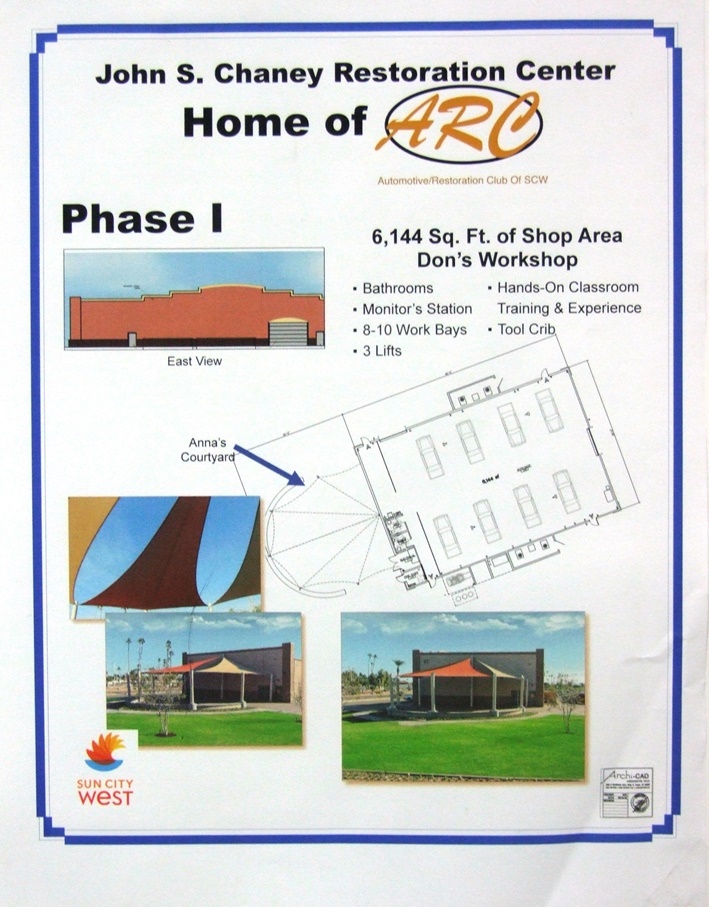 One of 3 story boards showing the planned progress of construction.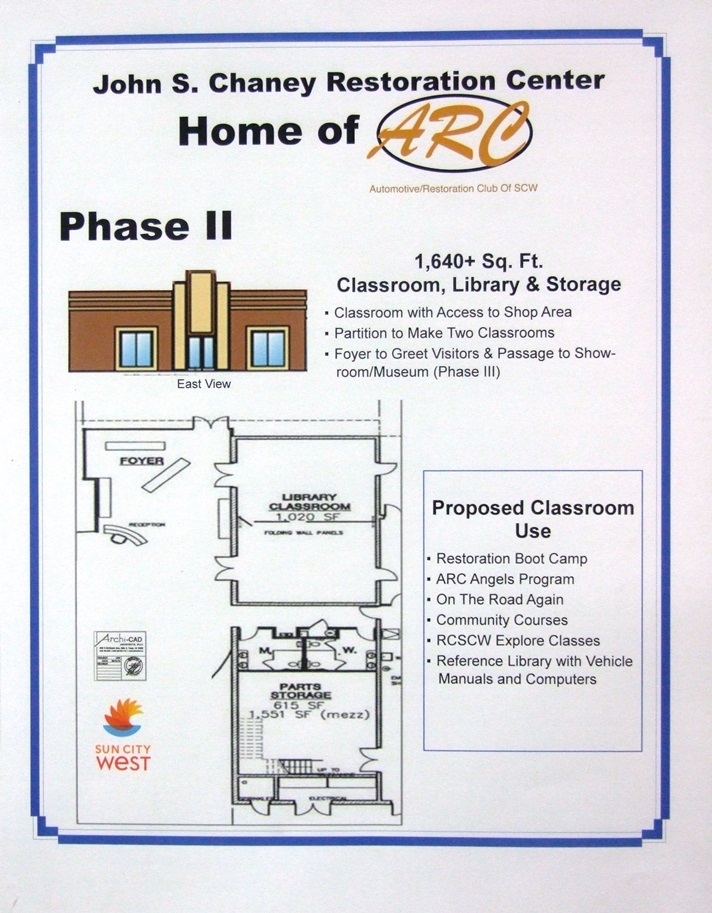 This would be Phase 2 housing a Classroom, Parts storage and reception area.
Phase 3 would include a Showroom area, also the club has just learned they can have 2 down draft type paint booths which would become a addition to the shop area.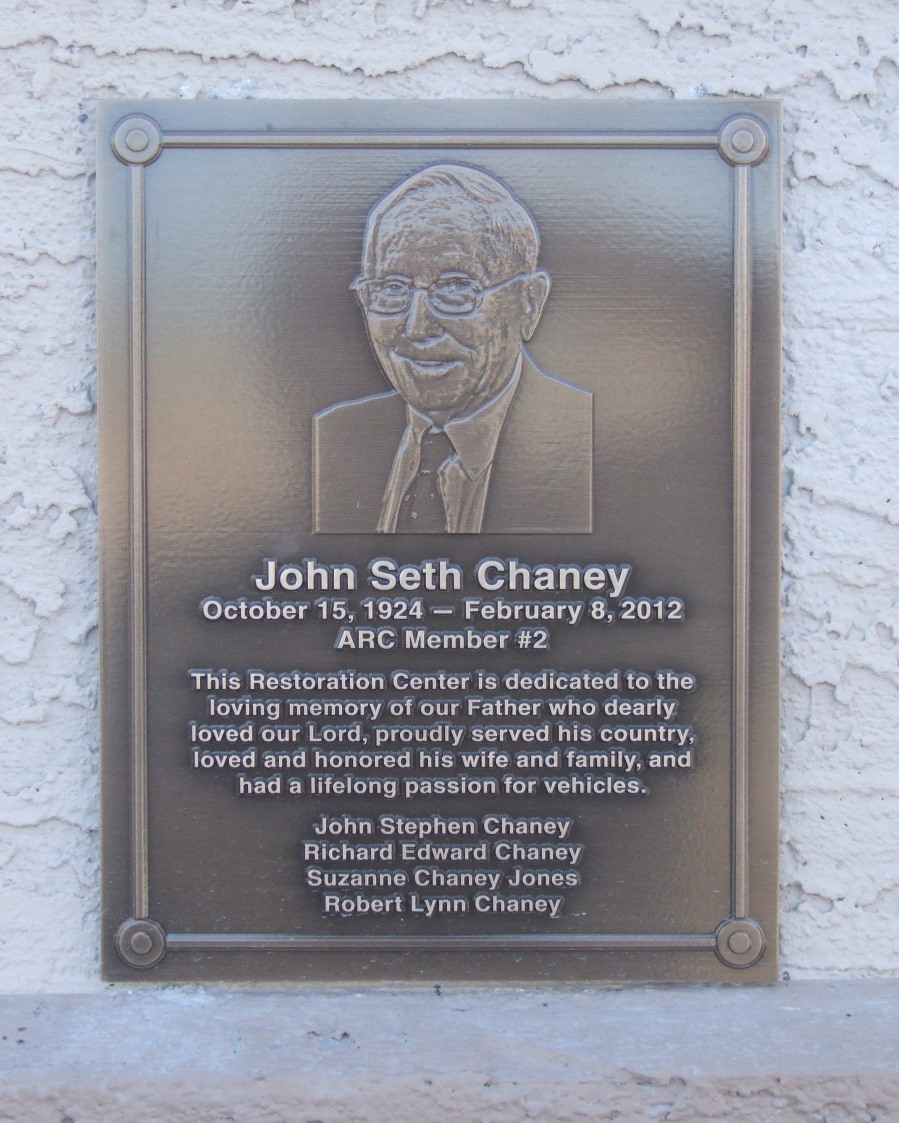 Every undertaking of this type needs a starting visionary and driving force. John S. Chaney was such a man and his vision inspired what you see here.
More information on ARC of Sun City West can be gotten here. www.restoration.scwclubs.com