Apparatus Fleet
Engine 1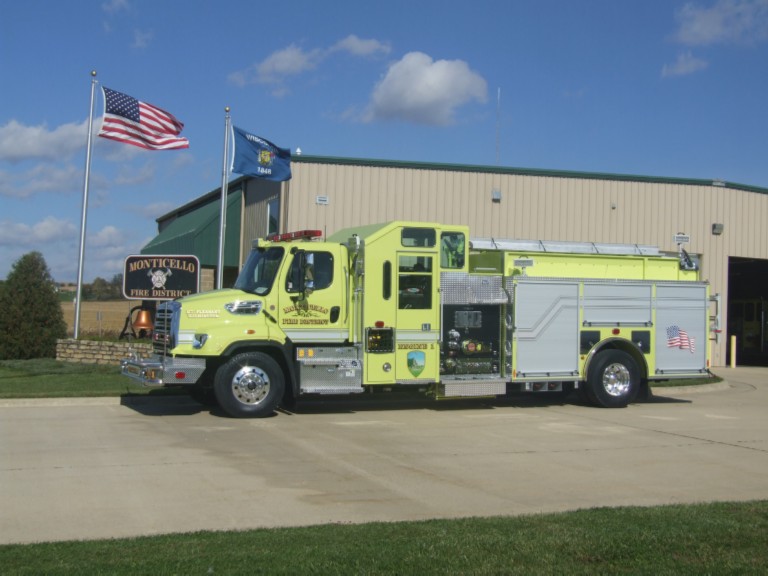 Put into service in Oct. of 2013 Engine 1 was constructed by Pierce Manufacturing in Appleton WI. on a Freightliner chassis. This engine is equipped with a 1,500 GPM pump 1,000 Gal water tank the enclosed cab has seating for 3 firefighters plus the driver/operator and officer. Equipped with a ladder lift giving us much needed extra compartment space on both sides of the rig. Compartments feature either slide-out or hinged "Tool Boards" allowing easier access to needed tools or adaptors. All the compartment doors are of the "roll-up" type. Booster tank is made of Poly thus we have no rust problems. All lighting is of the LED type thus no on board generator is required for scene lighting. Pierce Manufacturing may be reached at Piercemfg.com
Engine 2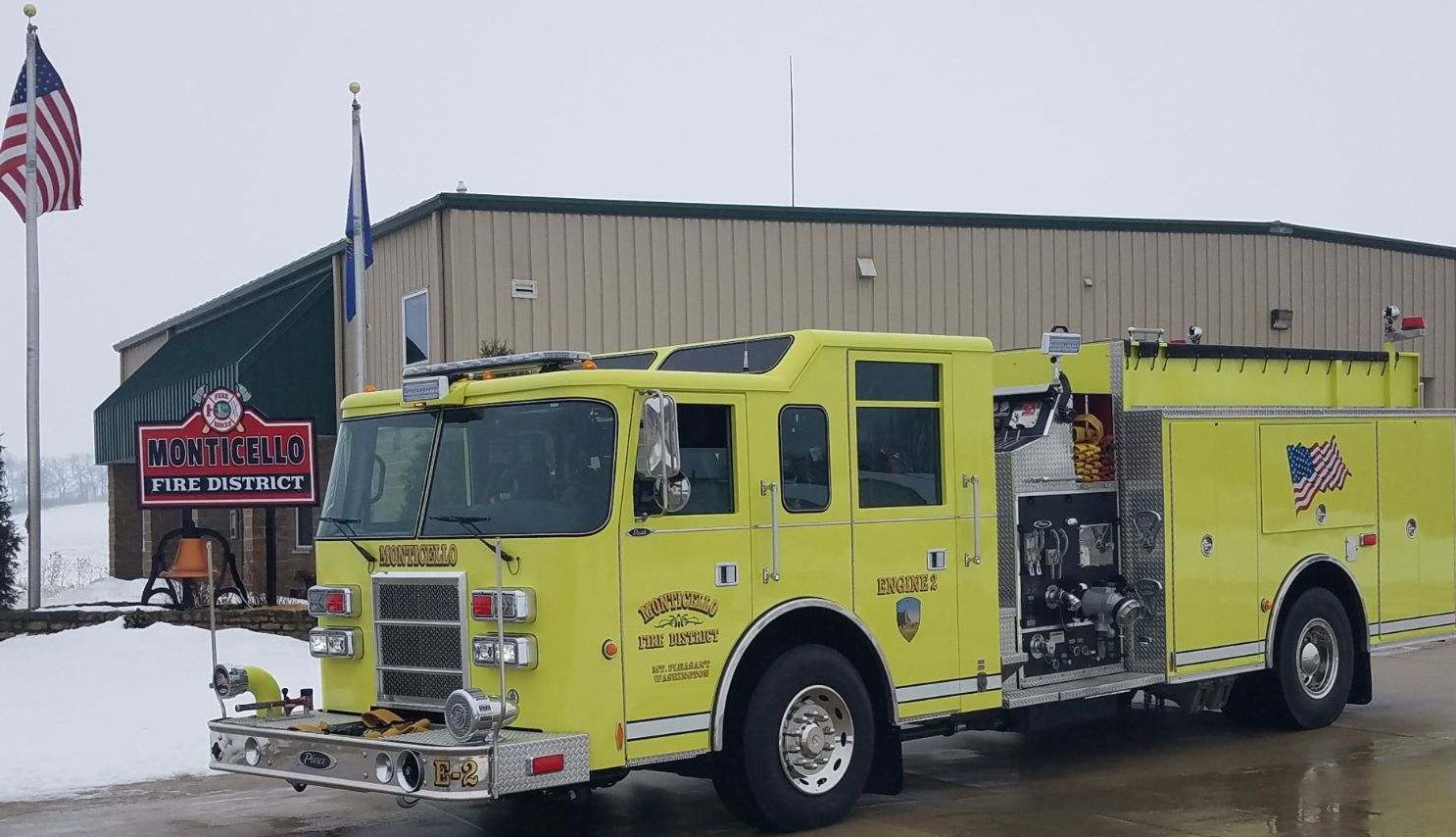 Engine 2 was placed into service Jan. 26, 2019. Purchased from the Village of Williams Bay, Engine 2 features a Waterous 1500gpm top mount pump, 1000 gal. poly water tank, 35 ft. ground ladder, diesel generator, and storage of at least 3000 ft of fire hose. Pierce upgraded pump components and lighting, Lakeside IH did the repainting, General Communications upgraded the radio equipment, and Thunder Valley updated the graphics. Engine 2 will be our primary MABAS and RIT response engine.
Brush 3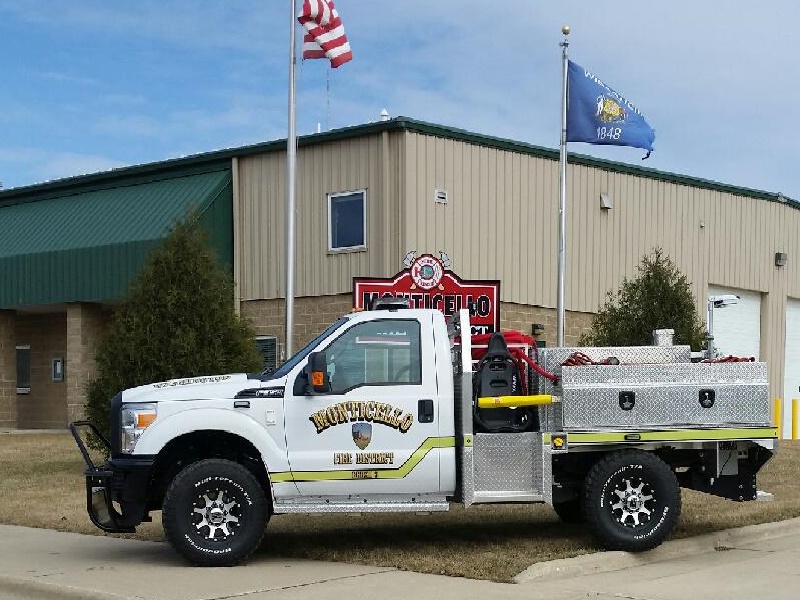 Brush 3 is a 2016 F350 built by Owen Welding. It entered service in March of 2017. It has a 350 gallon tank that supplies the 1" hose (accessible from the side jumpseat), a hosereel containing 1" hose off the rear, as well as spray nozzles mounted on the brushguard. It takes over for Mini 1 as our primary brush/grass fire rig.
Squad 4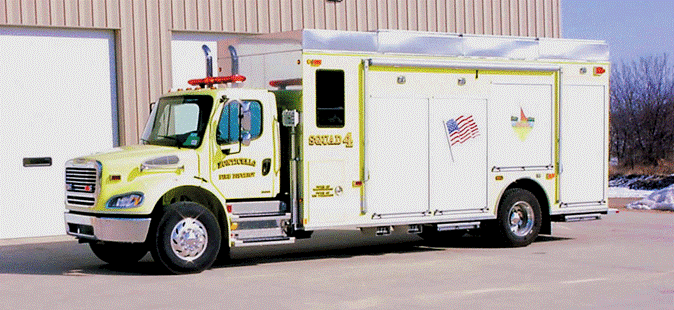 Squad 4 our heavy rescue unit entered service in 2004 built by Monroe Truck Equipment. Squad 4 has onboard PTO AC generator. Light tower, 3000psi cascade air system, onboard Hurst unit with reels. Seating for 8 firefighters with SCBA'S, electric winch that can be mounted to the truck on any of the four sides. Squad 4 also carries all "First Responder" EMS supplies and equipment. Monroe Truck Equipment may be reached at monroetruck.com
Tanker 5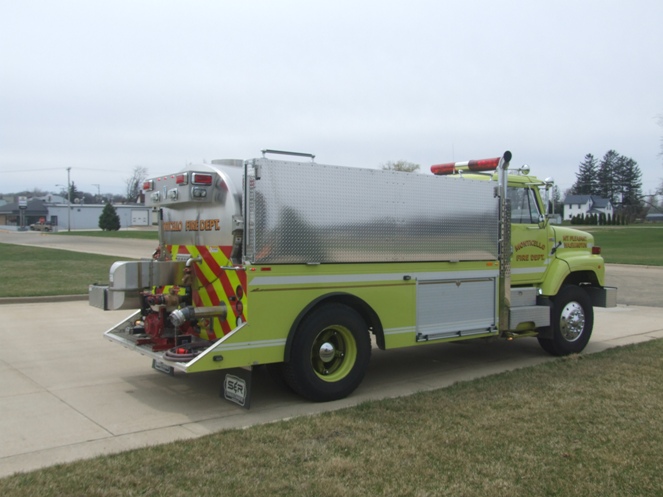 Tanker 5 a conversion of retired Engine 2, work done by Stainless Repair of Marshfield WI. Conversion process let us replace a aging tanker with this one. It has a all new tank on a chassis that still had many serviceable years of use left. The tank is stainless steel with a manual 3 way dump setup also carries a drop-down fold-a-tank. For a look at the conversion process click on the photo above. This link has the conversion of old Engine 2 into Tanker 5 that is seen above.
Tanker 6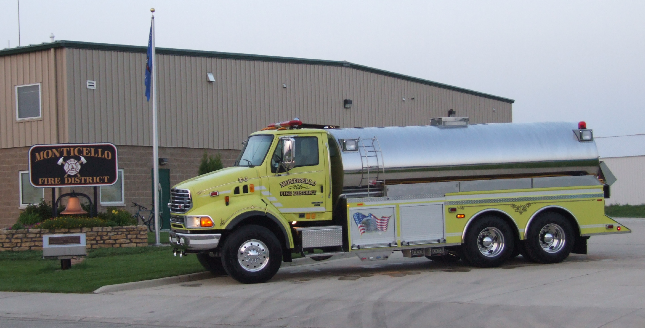 Tanker 6 was constructed by Stainless Repair of Marshfield WI. it features a 500 GPM PTO pump, 3 dump valves rear, right and left sides, 3500 gal tank capacity and carries a 3500 gal drop-down "Fold-A-Tank" on the passenger side and a rear back-up CCTV setup. For a photo show of the build process of this click on the truck photo above. Stainless Repair may be reached at www.stainlessandrepairinc.com
Command 7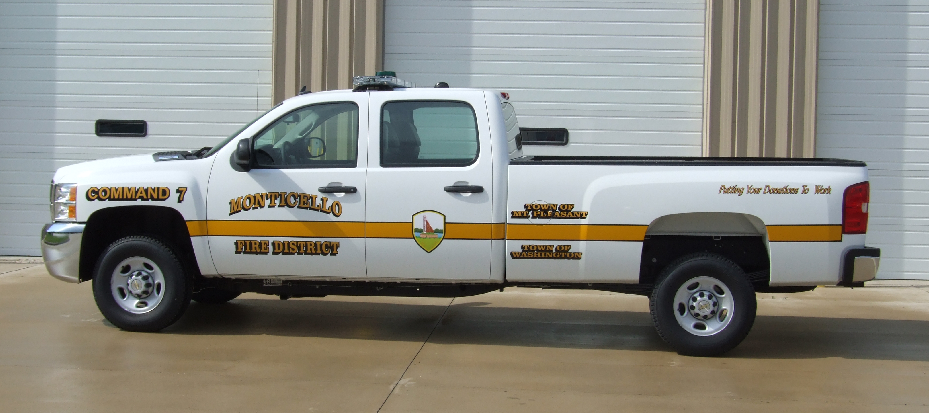 Command 7 was purchased by the members of the department. Many thanks to all who donated to our fund razing efforts, and those who have given special donations to the department. This unit would not become a reality without your help. Command 7 will serve many functions will replace Mini-1 as a second out "First Response" unit. Other uses will be transporting needed supplies and clean-up at fire scenes, also transporting members to training classes with there turnout gear. In addition will be used to move the Green County Emergency Government light tower, and its primary function of being used as a command center for any "Large Scale Operations" Command 7 will become a very useful addition to our fleet.
Meet "Irene" aka ATV-8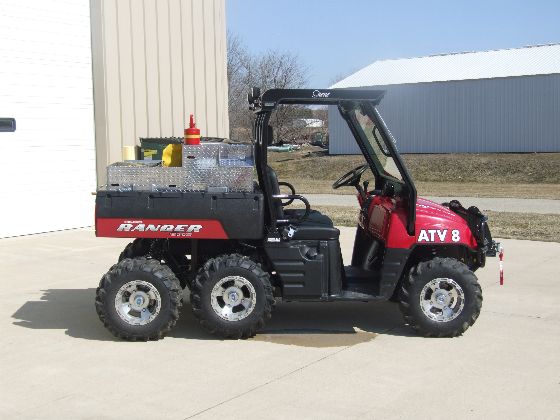 Purchased totally with funds from a bequest from the estate of Irene Marty ATV-8 will serve 2 vital functions primarily used for grass/wild land fires. It will give the department access to areas that can not be reached with other units. Also with 2 bike trails in our district it will allow us easier access to calls on either trail. The tank and pump unit was designed by the department members and construction done by Owen Welding of Brooklyn WI. We wish to express our thanks to Irene for thinking of us.
Notes from the webmaster for Monticello -Fire.org
I can remember the times as a youngster we would visit the farm that Irene lived on with her father. My father was a can milk hauler for Pet Milk at New Glarus and Wilbert (Irene's father) was one of his patrons. We would be invited to dine with Irene and Wilbert once during the summer. The highlight of that day for me and my sister was having a ride on one of Wilbert's horses. Wilbert still had a team of draft horses and he would take one out of the barn and we would ride bareback around the fields with the horse being lead by Wilbert. For a 8-9 year old this made quite a impression.
Irene was a fixture in the community she worked in the dry goods department of Blum's Store for years. And was very active in local church social circles. She moved into the village in the late 1970's when the farm was purchased by a Gordon Smith. The farm house was destroyed by fire on Christmas Day 1980.