Welcome to Monticello Fire & Rescue
Proudly serving the Monticello Area since 1892 with Fire and First Responder services. Our service area is 80+ Sq. Miles with about 3500 total population. We are primarily a rural farming area. Our department will average about 110 - 140 calls a year with about 70 % being First Responder calls. We do not run a ambulance out of our station but rely on the surrounding EMS units for transport and continuing patient care. We average about 32-35 members with over half of these being either Certified First Responders or EMT'S. We currently have a ISO rating of 5 for the Village and were the first department in the county to undertake a rural ISO rating exercise and have a class 8 rating for the rural area.
A Reminder to Residents:
-Please check your Fire Numbers!!
They need to be placed by the front entrance and clearly visible from the street. Rural residences should have an undamaged and clearly visible Fire Number near the entrance to the property. Numbers on mailboxes are not enough, nor are worn/faded/damaged numbers. Clearly visible Fire Numbers and addresses greatly improve response times to emergencies at that location.

Emergency Dial 911
Non-emergency: Green County Dispatch Center (608)-328-9400
What's New !!!!
Santa's visit to Monticello Dec. 2016! Click here for photos of his visit.
Monticello Fire has been updated! Our new sign is installed and on display. The project was funded by a local donor and work was done by Bryan Dove of Dove Designs.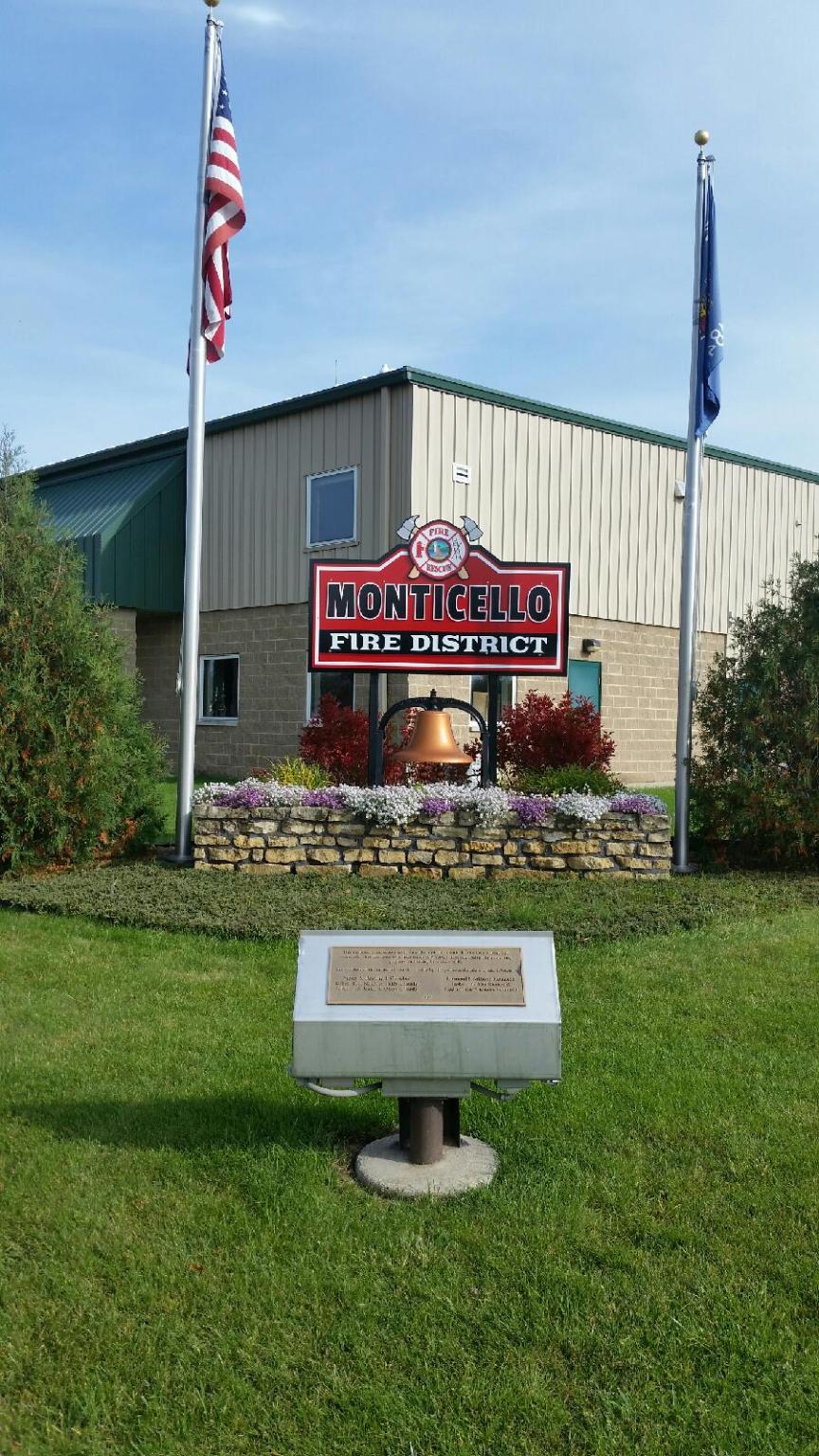 Responders Your Voice Needs to be heard!
Monticello Fire has completed the process of a major change in our fleet. Our new Engine is now in service, and the conversion of former Engine 2 into a tanker is also done. The complete process has brought a major portion of our fleet up to date. Also cost wise this was a good move as we basically replaced two trucks for the same cost as other area departments have spent on just replacing one engine. Also sale of surplus equipment removed from the old engine when it was converted into a tanker put an additional $1,000 back into our operating budget. Click on Me for a tour of the process!!